Wojenna kolekcja Stanisława Westwalewicza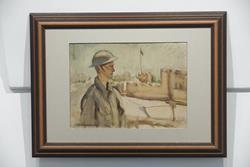 Muzeum Okręgowe w Tarnowie nabyło cenną kolekcję prac Stanisława Westwalewicza powstałych w latach wojny i tuż po niej. Część liczącej kilkadziesiąt eksponatów kolekcji prezentowana będzie od 10 października w siedzibie muzeum w Rynku 3. Wernisaż odbędzie się o godzinie 18.00.
Muzeum Okręgowe w Tarnowie nabyło niezwykle cenną, dużą kolekcję wojenną Stanisława Westwalewicza – Artysty "Szlaku nadziei".
Dzięki zakupowi, realizowanego w ramach programu Ministra Kultury i Dziedzictwa Narodowego oraz przy wsparciu finansowym Marszałka Województwa Małopolskiego i budżetu Tarnowa do muzeum trafiły 82 prace na papierze (rysunki – ołówkiem, kredką, tuszem, atramentem oraz akwarele, 1 tempera i 1 plakat) z lat 1942 – 1947, a także 13 obrazów olejnych z lat 1942 – 1946.
Wszystkie prace zostały wykonane przez Stanisława Westwalewicza podczas jego wojennej wędrówki, którą rozpoczął po wybuchu wojny radziecko-niemieckiej, wstępując do Armii Polskiej gen. Władysława Andersa. Dzieła przedstawiają sceny i widoki miejsc, w których Westwalewicz, jako żołnierz, stacjonował (m.in. Rzym, Florencja, Wenecja, Kair, Jerozolima).
Ponadto spadkobierca artysty, syn, Andrzej Westwalewicz, nieodpłatnie przekazał dokumentację jaką Stanisław Westwalewicz stworzył i jaka towarzyszyła mu w czasie szlaku bojowego, są to m.in. odręczne notatki, legitymacja wojskowa i liczne fotografie.
Kolekcja Westwalewicza stanowi zamkniętą całość o dużym potencjale ekspozycyjnym. Dlatego już od 10 października przez tydzień będzie dostępna dla zwiedzających w siedzibie, Rynek 3 w ramach nowo powstałego cyklu muzealnego "Galeria jednego obiektu". Wernisaż zaplanowano 10 października o godzinie 18.00.
W ramach "Galerii jednego obiektu" będą organizowane spotkania, podczas których będzie prezentowany wybrany obiekt muzealny lub cała kolekcja, tak jak to jest w przypadku dzieł Westwalewicza. Podczas spotkań odbywać się będą odczyty, referaty i inne formy przybliżające widzom tak obiekt jak i jego twórcę. Jeszcze w tym roku muzeum planuje organizację sześciu takich spotkań.
Stanisław Westwalewicz urodził się 13 listopada 1906 roku w Kozienicach koło Radomia. Miał zamiar studiować architekturę, ale nie został, mimo zdanego egzaminu, przyjęty na Politechnikę Warszawską i w 1928 roku rozpoczął studia na krakowskiej Akademii Sztuk Pięknych. Kształcił się m.in. pod kierunkiem Włodzimierza Jarockiego, Karola Frycza i Fryderyka Pastucha. Po studiach wrócił do Kozienic, a pierwsza indywidualna wystawa jego prac odbyła się w 1937 roku w Pałacu Sztuki w Krakowie. We wrześniu 1939 roku Stanisław Westwalewicz zgłosił się jako ochotnik do wojska, 18 września dostał się do sowieckiej niewoli i trafił do obozu w Kozielsku. Jako jeden z nielicznych więźniów uniknął śmierci w Katyniu, a w roku 1941, po wybuchu wojny radziecko-niemieckiej i po nawiązaniu stosunków dyplomatycznych pomiędzy Polską a ZSRR został żołnierzem armii Andersa. Przez pewien czas był dowódcą plutonu, później pracował w drukarni wydającej czasopismo "Orzeł Biały". Przez cały okres wojny, również w czasie pobytu w obozie, nie zrezygnował z twórczości artystycznej, prezentował swoje prace na wystawach m.in. w Jerozolimie, Damaszku, Kairze i Rzymie. Odbył kampanię włoską, zaś po zakończeniu wojny brał udział w pracach założycielskich międzynarodowego stowarzyszenia artystów "Circolo Artistico Internazionale". W czerwcu 1947 roku powrócił do Polski i zamieszkał w Pionkach pod Radomiem, gdzie przez pewien czas pracował jako nauczyciel rysunków. W 1951 roku Westwalewiczowie przenieśli się do Pilzna, rodzinnego miasta żony Stanisława Westwalewicza. W 1962 roku rodzina przeniosła się na stałe do Tarnowa.
W ostatnim okresie życia Stanisław Westwalewicz miał kilka dużych wystaw retrospektywnych, m.in. w 1992 roku w Instytucie Polskim w Wiedniu, w następnym roku z okazji jubileuszu 60 lat pracy artystycznej wystawy jubileuszowe odbyły się w Galerii Sztuki Współczesnej w Tarnowie i Pałacu Sztuki w Krakowie. W 1996 roku, roku 90 urodzin Stanisława Westwalewicza, obrazy artysty eksponowane były w Muzeum Regionalnym w Kozienicach i ponownie w Tarnowie. Prace Stanisława Westwalewicza to głównie martwe natury i pejzaże, malował też obrazy o tematyce religijnej, projektował witraże.
Nestor tarnowskiego, a może i polskiego malarstwa pracował praktycznie do końca życia. Prawdopodobnie w ostatnim jego okresie był najstarszym czynnym twórczo artystą w kraju. Za swą twórczość otrzymał wiele odznaczeń, nagród i wyróżnień, zarówno w kraju jak i za granicą, m.in. Włoski Krzyż zasługi "La Croce al Merito di Guerra", medal "Za zasługi dla miasta Tarnowa", nagrodę MKiS za osiągnięcia w upowszechnianiu kultury i Złotą Odznakę ZPAP. Zmarł 15 maja 1997 roku w Tarnowie.
Imię Stanisława Westwalewicza nosi obecnie Gimnazjum nr 8 w Tarnowie. Artysta jest również patronem ulicy przy której mieści się Zespół Szkół Plastycznych w Tarnowie.
10.10.2016