Zielone perły Tarnowa - Kantoria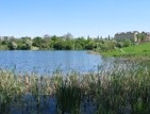 Wschodnia część tarnowskiej dzielnicy Piaskówka to teren o wysokich walorach przyrodniczych i krajobrazowych. Jego największą atrakcją jest zbiornik wodny w pobliżu krytej pływalni i obiektów klubu sportowego Błękitni przy ulicy Piłsudskiego. Zbiornik o powierzchni 2,2 ha jest pozostałością po istniejącej tu niegdyś cegielni "Kantoria". Jej nazwa pochodzi od dawnej nazwy ulicy wiodącej w to miejsce z centrum miasta (dzisiejsza ulica Legionów). Nazwa ulicy zaś wynikała z faktu, że przy tej właśnie ulicy, a raczej drodze znajdowały się posiadłości kantora tarnowskiej katedry.

Z centrum Tarnowa ku jego północnym krańcom wiodła niegdyś ulica, a raczej droga nazwana Kantorią. Wszystko dlatego, że mieściły się przy niej posiadłości kantora tarnowskiej katedry. Dziś ulica nazywa się Legionów, a ostatnią pozostałością tradycyjnej nazwy była cegielnie "Kantoria". Założona na początku XX wieku, od roku 1917 była własnością znanego tarnowskiego kupca Władysława Bracha . Cegielnia najpierw zmieniła właściciela, a w latach dziewięćdziesiątych XX wieku ostatecznie zakończyła działalność. Jedną z pozostałości po niej jest staw - wyrobisko surowca, ciągle nazywany Kantorią. Zbiornik o powierzchni około 2,2 ha powstał, gdy po zamknięciu cegielni zaprzestano odwadniania wyrobiska. Niestety - zatapiając wyrobisko nie usunięto wszystkich elementów kopalni, dlatego akwen ze względów bezpieczeństwa nie może być wykorzystywany do uprawiania sportów wodnych.
Wiele zmieniło się na tym terenie w ciągu minionych stu lat, ale jedno pozostało niezmienne - dzielnica Piaskówka już w XIX wieku była popularnym miejscem spacerów mieszkańców miasta. Również obecnie wschodnia część Piaskówki, obejmująca m.in. tereny byłej cegielni, to teren zieleni miejskiej o wysokich walorach przyrodniczych i krajobrazowych. Staw zatopiony jest w zieleni - otaczają go ogrody działkowe, tereny zielone dawnej strzelnicy wojskowej oraz obiekty sportowe klubu "Błękitni Tarnów". Rośnie tu m.in. dąb szypułkowy "Kościuszko", uznany w 1993 roku za pomnik przyrody. Wiek drzewa szacuje się na około 100 lat, jego wysokości wynosi około 30 metrów, a obwód pnia 415 centymetrów. Według tradycji posadzono go w celu utrwalenia granicy podmiejskich folwarków - Kantorii i Dyskontówki. Nieopodal, przy ulicy Piłsudskiego, oglądać można również inną "Zielona perłę Tarnowa" - głazy narzutowe przyniesione przez lodowiec z terenu Skandynawii.
Aktualnie akwen "Kantoria" jest wydzierżawiony Polskiemu Związkowi Wędkarskiemu, który opiekuje się nim i prowadzi gospodarkę rybacką, zarybiając staw rybą białą (amur, karaś, karp, leszcz, lin czy płoć). Zbiornikiem i jego otoczeniem opiekują się również uczniowie Zespołu Szkół Budowlanych, którzy co roku wiosną porządkują i sprzątają teren.
06.04.2011