Światowy Dzień Walki z Gruźlicą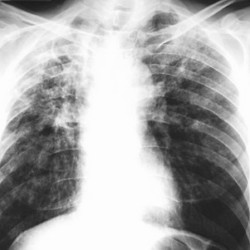 24 marca to Światowy Dzień Walki z Gruźlicą. Na całym świecie zakażonych prątkiem gruźlicy jest około dwóch miliardów ludzi. Z tego rocznie osiem milionów na gruźlicę choruje, a spośród nich umiera około trzech milionów.
24 marca to Światowy Dzień Walki z Gruźlicą uchwalony przez Światową Organizację Zdrowia w rocznicę odkrycia prątka gruźlicy przez niemieckiego lekarza Roberta Kocha, który ten fakt ogłosił w swoim wykładzie dnia 24 marca 1882 roku w Berlinie.
W Polsce około 20 % populacji zakażonych jest bakterią gruźlicy. Z tej liczby 10 % może zachorować. W Zespole Przychodni Specjalistycznych w Tarnowie w Poradni Przeciwgruźliczej w 2011 roku leczono trzydziestu pacjentów chorych na gruźlicę, z tego 13 to zachorowania nowe.
Gruźlicę jest chorobą zakaźną. Wywołuje ją bakteria mycobacterium tuberculosis. To bakteria tlenowa, a więc żyjąca w płucach. Źródłem zakażenia jest chory prątkujący, a drogą zakażenia układ oddechowy. Jeden chory prątkujący zaraża średnio około 10 osób. Choroba objawia się kaszlem, przewlekłymi stanami podgorączkowymi, spadkiem masy ciała, krwiopluciem i osłabieniem.
Gruźlica zajmuje przede wszystkim układ oddechowy, ale może także pojawić się w węzłach chłonnych, nerkach, kościach, układzie rozrodczym, na skórze. Rozwojowi choroby sprzyjają: kontakt z chorym prątkującym, przewlekłe schorzenia (nowotwory, cukrzyca, nikotynizm, alkoholizm, niewydolność nerek), podeszły wiek czy zaburzenia odporności.
Profilaktyka gruźlicy to przede wszystkim zdrowy tryb życia, higiena kaszlu, szczepienia BCG, leczenie pacjentów zakażonych prątkiem. I oczywiście, co zawarte jest w Narodowym Programie Zwalczania Gruźlicy, wczesna wykrywalność i skuteczne leczenie . – Diagnostyka gruźlicy to rentgen klatki piersiowej, odczyn tuberkulinowy, badania plwociny, bądź wydzieliny oskrzelowej i wyhodowanie prątka z materiałów biologicznych – mówi Joanna Siudzińska, lekarz, specjalista chorób wewnętrznych i specjalista chorób płuc. – Z kolei leczenie polega na skojarzonej terapii antybiotykowej, która by być skuteczna, musi być regularna i trwać minimum pół roku.
22.03.2012