Nowa broń z Tarnowa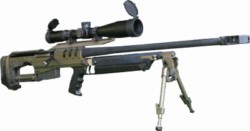 Karabiny wyborowe dla polskiej armii będą pochodzić z Tarnowa. Zagraniczna broń używana dotychczas w wojskach lądowych ma być zastąpiona sprzętem rodzimej konstrukcji. Jeszcze w tym roku Inspektorat Uzbrojenia zapowiada podpisanie umowy na zakup pierwszej partii karabinów wyborowych kalibru 8,6 mm o zasięgu ponad tysiąca metrów.
Karabiny wyborowe dla polskiej armii będą pochodzić z Tarnowa. Umowy na zakup pierwszych karabinów prawdopodobnie podpisane zostaną jeszcze w tym roku. Zakłady Mechaniczne Tarnów S.A. są jedynym producentem wojskowej broni precyzyjnej. Specjalizują się w dostarczaniu armii karabinów wyborowych Bor 7,62-mm oraz przeciwsprzętowych karabinów Tor 12,7 mm. - Od kilka lat rozwijamy powiększoną odmianę Bora, do której wprowadzono poprawki, wynikające z uwag wojskowych użytkowników. Chodzi o powtarzalny karabin wyborowy do amunicji 8,6 mm pod nazwę Alex-338, którym zainteresowana jest armia – mówi Wojciech Gruszecki, wiceprezes zarządu Zakładów.
O skuteczniejszą broń od kilku lat prosili snajperzy i dowódcy kursów strzelców wyborowych. Naboje tego typu coraz częściej wypierają z rynku dotychczas używane 7,62 mm, ponieważ są celniejsze na dłuższych dystansach. Zaprojektowany w Tarnowie karabin przy bardzo dobrej celności, ma stosunkowo niską masę, jest tylko o 0,4 kg cięższy od Bora, a lufa charakteryzuje się większą trwałością. To istotne, ponieważ snajperzy muszą sporo trenować.
Broń wyborowa o takim kalibrze służy do strzelania na dystansach sięgających nawet 1 500 metrów. Pocisk z odległości 300 metrów przebija stalową płytę o grubości 20 mm. W Niemczech i Wielkiej Brytanii to obecnie dominująca amunicja dla strzelców wyborowych, w USA, Kanadzie, Holandii i Włoszech staje się istotnym uzupełnieniem wyborowego arsenału.
Zakup nowego karabinu na wzmocnioną amunicję jest powiązany w programem Tytan – obejmującym kompleksowe uzbrojeni polskiego żołnierza przyszłości.
26.03.2013