Chilli con carne – danie więźniów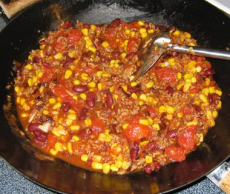 Powszechnie uchodzi za danie meksykańskie, choć w Meksyku serwowane jest tylko w niektórych restauracjach, aby zadowolić turystów. W rzeczywistości chili con carne pochodzi z Hiszpanii, a z czasem zadomowiło się w Stanach Zjednoczonych, gdzie było niemal codziennym posiłkiem więźniów w Teksasie. A to z kolei oznacza, że przyrządza się je tanio, łatwo i szybko. Główną jego zaletą jest to, że można go zrobić dużo i że jest bardzo ostre.

Składniki:
1/2 kg mięsa mielonego (najlepsze jest wołowe)
100 g koncentratu pomidorowego
3-4 cebule
1 chili (bez pestek!)
puszka czerwonej fasoli
puszka kukurydzy
3 pomidory (powinny być słodkie i mięsiste)
sól, czosnek, oregano, ostra papryka

Przygotowanie:
Posiekaną cebulę podsmażamy na oleju, a następnie wrzucamy mięso, solimy i smażymy jeszcze chwilę. Do miękkiego i zrumienionego mięsa wrzucamy pokrojoną drobno papryczkę chili i zmiażdżony lub wyciśnięty przez praskę czosnek (2-3 ząbki, jak kto lubi). Dodajemy oregano i dalej podsmażamy. Następnie wrzucamy pokrojone drobno pomidory, dodajemy koncentrat pomidorowy i dusimy pod przykryciem, aż pomidory zmiękną. Leniwi nie muszą nawet obierać ich ze skórki, choć można. Odsączamy kukurydzę i fasolę, dodajemy do mięsa i czekamy, aby nabrały temperatury całego dania. Chrupka fasolka tylko dodaje smaku. Można także dolać połowę zalewy fasolki. Posypujemy to obficie ostrą papryką i już. Jeżeli wyjdzie zbyt płynne, trzeba po prostu zagęścić lekko mąką. Chili można także polać makaron jeżeli ktoś lubi bardzo konkretne dania. Wtedy trzeba dać trochę więcej pomidorów. Ważne, by było gorące i ostre.

Smacznego!
06.04.2011